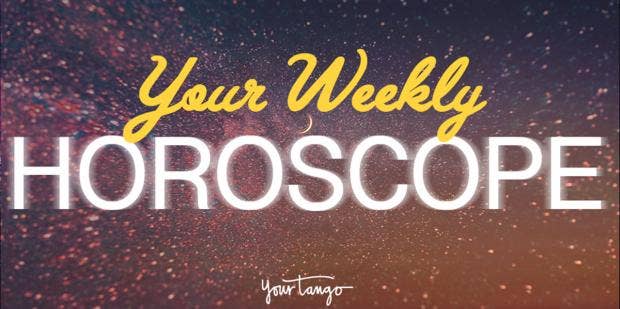 Welcome to the weekly horoscope for all the signs of the zodiac. Boom! Scorpio and everything it represents comes. On October 23, the sun enters Scorpio and brings a few friends along for the journey.
We look at Venus in Scorpio – on day one, then New Moon in Scorpio and square with Moon Pluto. It's like a mix of passionate efforts all happening at the same time.
Some of these passion games will look like jealousy in someone else's supposedly good love life, and others will look like great successes at work. It all depends on how we convert the energy.
There will be a few moments where we can only call it 'antagonistic' as we look at so much Pluto energy, especially around midweek. Anticipate quarrels with coworkers and uncomfortable disagreements on the home front.
A big "Failure!" Yes. Oops, we did it again.
We have good luck with the Moon trine Jupiter together with the Moon in Sagittarius to help us find what is good in all the darkness and mud. The week has so many promises and could potentially be great; What is required of us this week is patience, resilience, and the willingness to step back, think first, and then move forward.
We have the Moon opposition Mars coming in at the end of the week and that should help us stick to our priorities. A success-oriented week where we will be asked to do a lot of 'old-fashioned' work.
Weekly horoscope for October 24 – 30, 2022 for each sign:
Aries
(21 March – 19 April)
At this point, you are not ready to do anything but brag about your great achievements this week. you did it. You had a goal in mind, and this week, you can tell everyone that you were the one who did 'that thing' and that you were the one who made it all work. You love success, and you love knowing you've succeeded even more.
This week, you're sitting nicely on top of your mountain of success, proud… and for good reason!
Taurus
(20 April – 20 May)
You're not always ready to be good and bad, and this week you feel like you want to be more bad and bad. Maybe it's the Halloween spirit, but you have dark Pluto energy this week even if it's just a game.
You don't mind being a scary person at work because you know everyone out there loves you. You're going to take a few chances this week and let your dark side play. All good. We all need a break from time to time. Evil villains to the rescue!
Gemini
(21 May – 20 June)
Here is a week begging you to take advantage of an opportunity or lose it forever. That's your problem, Gemini, you don't like being pressured to choose.
Even if the options are in your favor, you want some control over what you do in your life and you will be given the chance to do something great during this week, but luck will come to you very quickly. , and you won't want to make hasty decisions, so… you will lose momentum and eventually miss the opportunity.
Cancer
(21 June – 22 July)
You're being arrogant this week. You no longer ask; you are telling. There are people in your life who need to be awakened from the deep sleep of ignorance; You watch them turn into boiled potatoes and you can't stand your friends getting so soft.
It's like they're without passion, and you won't let these friends sit and watch as Scorpio increases your take on passion. You are charismatic and persuasive this week, and your friends will likely appreciate what you've done for them.
Lion
(23 July – 22 August)
It's good to know once in a while that finances are NOT your problem. Welcome this week, Leo, you can sit back and relax if you want. You recently won something; you have inherited a lawsuit or perhaps a substantial inheritance.
You're not ready to spend your money on anything in particular, but you'll love to step back and think about your next move. You are in good shape this week and you have a lot to look forward to.
Virgo
(23 August – 22 September)
You're strong-willed and self-accepting this week, Virgo. One had to create the other, and the idea of ​​accepting yourself 'as you are' is a groundbreaking situation you never saw coming. What you will realize is that the more you love yourself, the easier it is to deal with anything.
Money problems come and go and yes you are aware of them but one thing you are no longer willing to do for money is to put all your stress on it. Money can no longer hold you hostage. This week, your freedom begins with this anxiety.
Scales
(23 September – 22 October)
The transitions are arranged in such a way that when you feel their effect, it will come as a desire for control. You may be feeling overwhelmed by work this week, Libra, and it's not the kind of overwhelming you can avoid.
Action is required here and you will surprise yourself by stepping onto the plate where you have accomplished everything you need. Your success is hard earned and well fought for, and although you may have wished for an easier way, for now it will do you good.
Scorpion
(23 October – 21 November)
It's like your entry into your own season comes with fanfare. You will get great news this week, Scorpio, and it will rise to the top of this week.
You worried about something and thought it wasn't going to happen, but did you know this week that it's not only coming but better than you thought? You're the winner this week, and yes, that could mean making money. As the perfect representative of the zodiac sign, you make your way towards the Scorpio Sun.
sagittarius
(November 22 – December 21)
You're here on a mission this week, Sagittarius. And this task involves regulating the flow of money in your direction. While you may not be cold enough to be demanding, you are firm enough in your approach to asking someone for what they owe you.
If you're creative and expect to be paid, you can open your mouth to get your debt. Rude talk comes easily to you and you won't let things go too easily.
Related Stories from YourTango:
Goat
(22 December – 19 January)
One of those 'stuck between a rock and a hard place' week for you. You've been here before and you know how to wait, but oh, how it goes on.
There is a certain kind of 'zen' acceptance that happens and allows you to deal with the most boring, mundane situations without going crazy. You will wait and then you will play your card. Patience is YOUR virtue, Capricorn. Never let them see you sweat.
Aquarius
(20 January – 18 February)
Nightmares threaten your peace for a few days this week, it seems there is something in your mind that is lodged deep within your psyche. Scorpio season tends to bring out nightmares and you are eager to find out why you are dreaming the way you are.
What begins vague and even frightening turns into a journey of self-discovery. You will get to the bottom of your nightmares and you will be able to release your cause into the universe without any problem.
Pisces
(February 19 – March 20)
This week puts you in the position of a helpful neighbor or a caring friend. You have no problem reaching out to people when they need them, and you will be at the center of everyone's call for help this week.
Good thing it's nothing too serious, but your helping hand is exactly the medicine that puts things right again. You will spend this week with appreciation and love. Your philanthropy is generous and you will be honored for your efforts.
Ruby Miranda Interprets I Ching, Tarot, Runes and Astrology. He gives private readings and has been working as an intuitive reader for over 20 years.
.